A recent Twitter/X post from U.S. Citizenship & Immigration Service (USCIS) caused several TDEC stalwarts to take a trip down Memory Lane with respect to a 2-year project it had done for the predecessor agency Immigration & Naturalization Service (INS).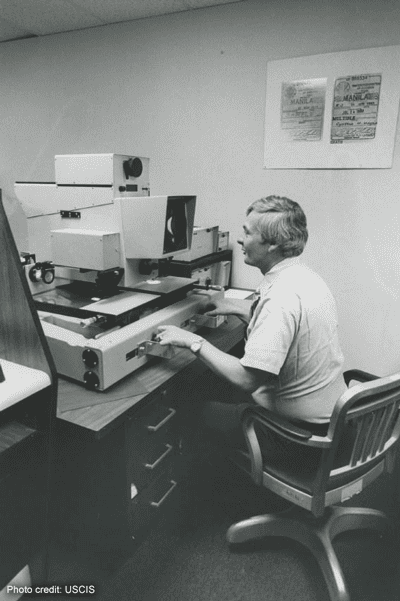 By the end of the 20th century, the INS had maintained millions of immigrant and non-immigrant records on microfilm, which were in extremely poor condition due to age, non-standard microfilming techniques, and substandard film quality. The poor quality of film, combined with the arduous process of searching through thousands of microfilm reels resulted in long search times with relatively low accuracy. Of historical note, INS Forensics Document Lab technicians examined these microfilm reels for evidence of fraud and later served as expert witnesses for the Justice Department in alleged Nazi war criminal cases. (See photo right of lab technician in July 1981. To his right on the wall is an example of fraudulent documents.)
In March 1999, mounting problems with the microfilms and a new government-mandated retention policy to keep records viable for at least 75 years, led the INS Office of Records Services to select Perot Systems Government Services, Inc. to develop a digital solution to address the Master Index record set; the resulting system being the Microfilm Digitization Application System or "MiDAS"  as it was commonly known. MiDAS combined index information with the image, and stored the combined data in a sophisticated, high-capacity storage system. Perot Systems sub-contracted the actual digitization and indexing of the microfilm records to TDEC.
From the very beginning of the project, TDEC was challenged to provide an extremely accurate product in a very short time frame and proved it was up to the task. TDEC developed a reliable system to capture the data and return matched data within the timeframe and accuracy requirements such that the government accepted more than 20 million records without a single rejection. In addition to the microfilm records, TDEC captured more than 100 million indexes.
Then Senior Project Manager Laura Teter, now Director of Operations, recalled "[w]hat a learning experience THAT project was…. Then we added a process of cropping the images before they were loaded onto MiDAS, which caused marked improvement in our production process. We were all excited to be a part of this history."